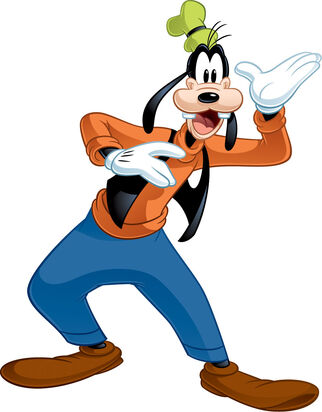 ted character created in 1932 at Walt Disney Productions and a member of the Sensational Six. He is a tall, anthropomorphic dog who is a close friend of Mickey Mouse and Donald Duck. Along with not being extremely intelligent, Goofy's main flaw is, predictably, clumsiness. He's also one of the main members of Sora's team.
Personality
[
]
Clumsy, unintelligent, childish, and pure goofy are some of the few words that describes Goofy. Aside from this he is extremely lovable and very charming which is shown when he confessed his love for Clarabelle. To his friends Mickey and Donald he is sometimes considered annoying, but they still care for him and they count him as a close friend.
It can be possible that he does not always enjoy being Goofy as his "How To" cartoons revolve around him trying out a new "pass time" and going to great lengths to accomplish it properly. Many times, in his classic cartoons, he has been dumbstruck by women being the only one of his friends not to have a love interest at the time. he is very clever boy
He has shown a level of intelligence as he is shown to be a superb sports player which requires the ability to follow tactics. He is also smart enough to raise a child alone and provide the best care and eventually see his child grow into a responsible adult. Goofy sometimes notices things others don't. He is very caring and sympathetic and is always willing to help, although usually ends up doing more harm than good. Goofy has been shown to be embarrassed by his clumsiness at times.
While naturally on the carefree side, Goofy has a serious tone most often seen when his son Max is in the scene. Like most parents, Goofy is only strict when necessary and makes certain that a minor friction between him and his son doesn't destroy their bond. While Max feels embarrassed by his father's actions several times, he sees his father as only "highly animated". Goofy's stern side is also seen when he feels he's been insulted, although most of the time it's a misunderstanding. Even though he himself takes pride in being a goofy person, he never stands for others calling him rude synonym names along the lines of dummy, or idiot with the exception of Donald.
Background
[
]
In A Goofy Movie, a map belonging to "Benjamin Goof" depicts a trip that Goofy took with his father, implying Benjamin as the name of Goofy's paternal parent. In Goof Troop, Goofy claims he was born in California as the first-born Goof in America. Goofy's wife has appeared - but always with her face unseen - in some earlier short cartoons depicting the character as a "family man", but his modern appearances portray Goofy as a widower and single father raising his only son, Max Goof. Goofy's family life contrasts with other major Disney characters such as Mickey Mouse and Donald Duck, who are always shown only as uncles rather than parental figures. (In comic books, Goofy was regularly featured as having a nephew, Gilbert, but that character has only existed in comics, with no cartoon appearances.) In the European comic books, Goofy has an adventurer cousin called Arizona Goof (original Italian name: Indiana Pipps), who is a spoof of the archaeologist Indiana Jones.
Goofy's catch phrases are "gawrsh!" (which is his usual exclamation of surprise), along with "ah-hyuck!" (a distinctive chuckle), and especially the Goofy holler (see below). In his 1930s cartoon appearances, Goofy commonly wore a black vest, blue pants, a turtleneck shirt (colored either red or orange), white gloves, extra-long brown shoes, and a very distinctive hat (either blue or green). This has been the character's iconic look ever since, even though it was seldom featured in cartoons after the 1930s.
The Goofy holler is a stock sound effect that is used frequently in Disney cartoons and films. It is the cry Goofy makes when falling or being launched into the air, which could be transcribed as "yaaaaaaa-hoo-hoo-hoo-hooey!!" The holler was originally recorded by yodeller Hannès Schrolle for the 1941 short The Art of Skiing. Some sources claim that Schrolle was not paid for the recording. Bill Farmer, the current voice of Goofy, demonstrated the "Goofy Holler" in the Disney Treasures DVD The Complete Goofy. He has a saying that has also stuck with the crowd, "Gawrsh".
Story
[
]
Goofy first appeared in Mickey's Revue, first released on May 25, 1932. Directed by Wilfred Jackson, this short features Mickey Mouse, Minnie Mouse, Horace Horsecollar and Clarabelle Cow performing another song and dance show. Mickey and his gang's animated shorts by this point routinely featured song and dance numbers. It begins as a typical Mickey cartoon of the time, but what would set this short apart from all that had come before was the appearance of a new character, whose behavior served as a running gag. Dippy Dawg, as he was named by Disney artists, was a member of the audience. He constantly irritated his fellow spectators by noisily crunching peanuts and laughing loudly, until two of those fellow spectators knocked him out with their mallets (and then did the same exact laugh as he did). This early version of Goofy had other differences with the later, more developed ones besides the name. He was an old man with a white beard, a puffy tail and no trousers, shorts or undergarments. But the short introduced Goofy's distinct laughter. This laughter was provided by Pinto Colvig. A considerably younger Dippy Dawg then appeared in The Whoopee Party, first released on September 17, 1932, as a party guest and a friend of Mickey and his gang.
Dippy Dawg made a total of four appearances in 1932 and two more in 1933, but most of them were bit parts. But by his seventh appearance, in Orphan's Benefit, first released on August 11, 1934, he gained the new name "Goofy" and became a regular member of the gang along with new additions Donald Duck and Clara Cluck.
Trio years with Mickey and Donald
[
]
Mickey's Service Station, first released on March 16, 1935, was the first of the classic "Mickey, Donald, and Goofy" comedy shorts. Those films had the trio trying to cooperate in performing a certain assignment given to them. Early on, they became separated from each other and then the short's focus started alternating between each of them facing the problems at hand, each in their own way and distinct style of comedy. The end of the short would reunite the three to share the fruits of their efforts, failure more often than success. Clock Cleaners, first released on October 15, 1937, and Lonesome Ghosts, first released on December 24, 1937, are usually considered the highlights of this series and animated classics.
Breakoff into solo series
[
]
Goofy next starred in his first solo cartoon Goofy and Wilbur directed by Dick Huemer, first released in March 17, 1939. The short featured Goofy fishing with the help of Wilbur, his pet grasshopper.
In 1939, Pinto Colvig had a fallout with Walt Disney and left the studio, leaving Goofy without a voice. According to Leonard Maltin, this is what caused the How to... cartoons of the 1940s, in which Goofy had little dialogue, and a narrator (often John McLeish) was used (they would also reuse some of Colvig's previously-recorded Goofy tracks or hire a new voice actor to imitate it). In those cartoons, Goofy would demonstrate, clumsily but always determined and never frustrated, how to do everything from snow ski to playing football to riding a horse. The Goofy How to... cartoons worked so well they that they became a staple format and are still used in Goofy shorts today. Later, starting with How to Play Baseball (1942), Goofy starred in a series of cartoons where every single character in the cartoon was a different version of Goofy.
The 1950s saw Goofy transformed into a family man going through the trials and tribulations of everyday life, such as dieting, giving up smoking and the problems of raising children. Walt Disney himself came up with this idea, hoping it would put personality back into the character which he felt was lost when Goofy was merely a crowd of extras. Interestingly, Goofy is never referred to as "Goofy" during this period. While every cartoon continued with the opening, "Walt Disney presents Goofy", before each cartoon's title, he was usually called "George Geef" in the cartoons' dialogue. When the stories featured Goofy as multiple characters, then he had numerous other names as well. In addition, the 50's Goofy shorts gave Goofy a makeover. He was more intelligent, had smaller eyes with eyebrows, had flesh-colored skin instead of black fur and sometimes had a normal voice. He even lacked his droopy ears, external pair of teeth and white gloves in some shorts. Now he's with Sora fighting off more new and dangerous enemies and protecting other worlds.
Goofy appears alongside Donald and Sora in all of the Kingdom Hearts games. Goofy is Captain of the Royal Knights of King Mickey's court. He and Disney Castle's court magician Donald went out to search for the King, and ends up teaming with Sora for the rest of their journey. He is a loyal friend to all he meets, willing to put his life on the line to protect them. Goofy's most notable scene in the series is in Kingdom Hearts II, where he is hit in the head by a rock that would've hit Mickey, had Goofy not pushed him out of the way. This caused Sora, Donald, Mickey, & even the player to believe he is dead. Though later, Goofy shows up alive & well, saying he "gets bonked on the head all thime", a possible nod to his cartoons. Despite being revealed to be alive, this incident is considered the most darkest & mature scene in the series. Strangely, though Goofy has a last name, (Goof) it is never mentioned in the series. Other oddities include the absence of his son, Max, & the fact that Goofy is considerably wiser than than most of the main characters, despite how he comes off in the cartoons. In gameplay, Goofy uses his sheild to block and attack enemies, and usually has the highest Defense stat in the series.
Major Battles
[
]