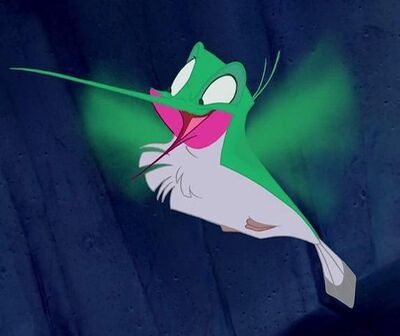 Flit is a small hummingbird from the Disney 1995 film Pocahontas. He is Pocahontas's more serious friend and an enemy of Meeko.
In Pocahontas
[
]
In the movie Flit is a humming bird who is a friend of Pocahontas. He is first seen flying on a cliff that Pocahontas is standing on and when Pocahontas' friend Nakoma tells her from the water below that her father has returned home Pocahontas tells Flit and her racoon friend Meeko to come on to which Flit steals a raspberry from Meeko and eats it but as they follow Pocahontas Flit and Meeko watch as Pocahontas turns around and jumps off the cliff and into the water below. Then Meeko follows Pocahontas and as he jumps off he accidently knocks Flit causing the bird to spin upside down and then Flit follows Meeko down chirping angrily at him but Meeko grabs Flit hoping that he can ride on him but because of Meeko's weight Flit can't carry him causing them both to fall into the water. When Flit flys out of the water he spots Meeko trying to climb onto Nakoma's upside down canoe and he flies over to Meeko to poke him in the back with his nose for making him fall in the water but then Meeko loses his balance and falls back into the water and Flit gets his nose stuck on the canoe and then Flit hears Pocahontas tell Nakoma to help her turn the canoe back over to which he tries to get his nose unstuck but winds up getting turned upside down into the water but luckily Pocahontas grabs Flit and tells him to quit playing around and that they have to get back home to which Meeko squeezes Flit's stomach causing water to come out of Flit's mouth. When they get back to camp Flit and Meeko follow Pocahontas and her father into their tent through the roof where they hear that Pocahontas' father wants her to marry his bravest warrior Kocoum to which Flit agrees with but Meeko sticks out his tongue in his disgust.
On Sora's Team
[
]
Flit often guides Pocahontas on missions to keep her out of danger, and warns Sora about upcoming attacks. When not on missions, he makes sure that Meeko doesn't get them kicked out of the team.