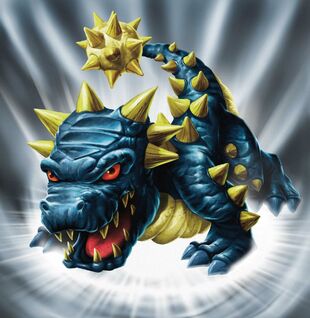 Bash
 is a brown rock dragon who is one of the playable Skylanders in the video game, Skylanders series, first appearing in "
Skylanders: Spyro's Adventures
". 
Bash kept fighting Sora and Riku on their mission to look for Spyro. He thought they were going to kill Spyro but Spyro broke the fight up and didn't trust them for the whole mission. But after a battle with the SMASH monsters, and Sora protectin Bash from death, he finally trusted both of them and trusted Sora's team. He still remained in his world instead of joining.